Helena – After East Coast developer Matt Rosendale was exposed for calling himself a rancher when he has never owned any cattle or ranched his own land – literally "all hat, no cattle" – he's finally got himself a cow.
A cash cow, that is.
A new website launched by the Montana Democratic Party today shows how the State Frauditor cuts up his cash cow, made up of his dark money backers and out-of-state endorsers.
See how Rosendale cuts up his cash cow at https://www.rosendaleranch.com.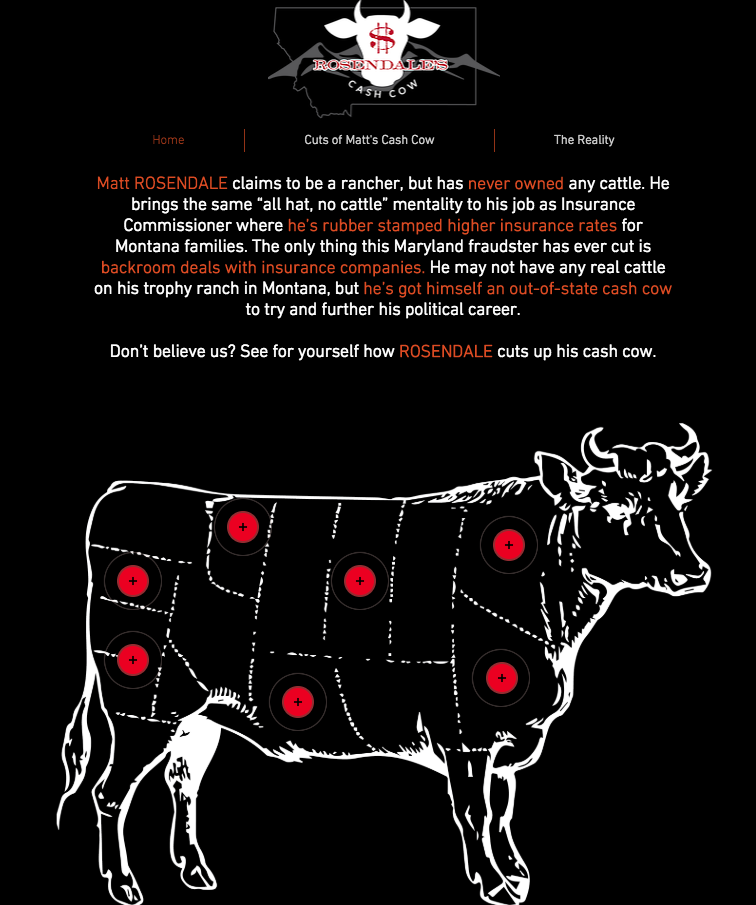 "Matt Rosendale plays dress up and pretends to be a rancher, all while relying on his out-of-state billionaire backers and super PACs funneling millions of dollars into Montana to try to buy him a seat to carry their agendas," said Brooke Bainum, spokesperson for the Montana Democratic Party. "Rosendale's multiple votes against transparency in campaign finance, his praise of Citizens United, and his cash cow full of out-of-state, special interest money shows us exactly what his real values are – and they're not Montana values."
Cuts of Rosendale's cash cow include:
Club for Growth: Funded by dark money and billionaire megadonors to push for policies that just don't work for Montana, Club for Growth has thrown $2.8 million into Montana to prop up Rosendale's campaign.
Richard Uihlein's Super PACs: Uihlein's super PACs have doled out $1.5 million in the primary battle and general election trying to buy Rosendale a seat in Congress.
Koch-Backed Americans for Prosperity: Part of the Koch network, Americans for Prosperity is in a tiff with President Trump and wants to see cuts to Montana Healthy Kids, to our education system, and less retirement security for our seniors but has spent more than half a million dollars so far to help prop up Rosendale.
Senate Reform Fund: This newly formed, shady super PAC has yet to disclose its donors and has run blatantly false ads against Sen. Jon Tester, spending more than $760,000.
Mitch McConnell's Senate Leadership Fund: McConnell's super PAC is bringing his Washington values to Montana and looking to bring Matt Rosendale home to the swamp with more than $33,000 so far.
Citizens United: The namesake of the Citizens United decision that brought unlimited dark money into our elections endorsed Rosendale because he champions their cause: unlimited dark money in our elections. Rosendale's record includes opposing basic transparency like the Montana Disclose Act and shady campaign finance dealings.
Steve Bannon: Bannon isn't very popular these days, but Rosendale needs all the outside help he can get, which is why he hasn't fully rejected or embraced the endorsement.
###