Helena – 
Yesterday was an opportunity for Montanans to hear from U.S. Senate candidates at a planned debate in Whitefish, but wealthy East Coast developer Matt Rosendale 
went back on his word and bailed at the last minute, after saying he would be there
. This is just the latest example of Rosendale misleading Montanans – we already knew Montanans couldn't trust Maryland Matt's word.
Here are five important questions on topics brought up by the Montana Broadcasters Association this weekend. Montanans might've gotten answers from Rosendale, if he had decided it was worthwhile to show up:
Why does Rosendale support health care policies that would take away coverage from tens of thousands of Montanans and increase costs?Rosendale also rubber-stamped rate hikes of up to 23 percent, a massive spike that he found "reasonable" and supports repealing the law that prohibited insurers from denying coverage to Montanans with pre-existing conditions.
Does Rosendale support dark money in elections? As a reminder, out-of-state dark money groups spent around $3 million in the primary alone to prop up Rosendale's campaign. Rosendale is endorsed by Citizens United and voted against Montana's Disclose Act, which requires dark money groups to disclose their campaign expenditures and donors.
Does Rosendale believe that ripping children away from their families is a solution to fixing our immigration system? Ripping away children from their parents is not a Montana value or an American value.
Why has Rosendale voted repeatedly against Montana's veterans?Rosendale voted against critical resources for veterans like funding for a veterans home in southwest Montana, scholarships for Purple Heart recipients, and a home loan program for veterans and Gold Star families.
Why did Rosendale go back on his word after telling Montanans he would attend the debate in Whitefish? Rosendale also misled Montanans by claiming to be a rancher, even though public records show he has never owned cattle or ranched his own land.
Rosendale may not have shown up, but these Montanans were in Whitefish to call out Rosendale for going back on his word: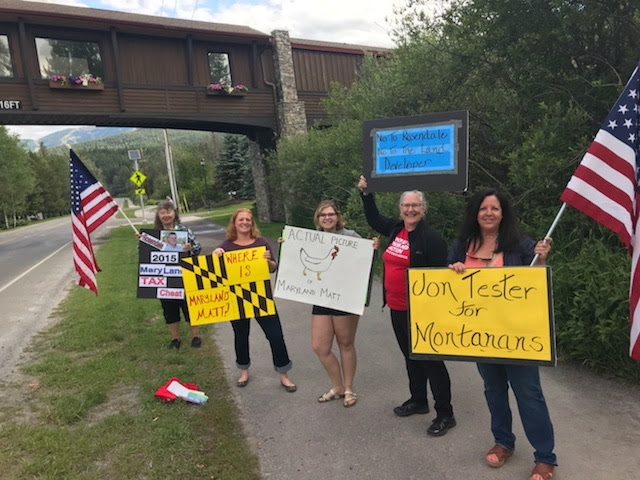 ###